---
May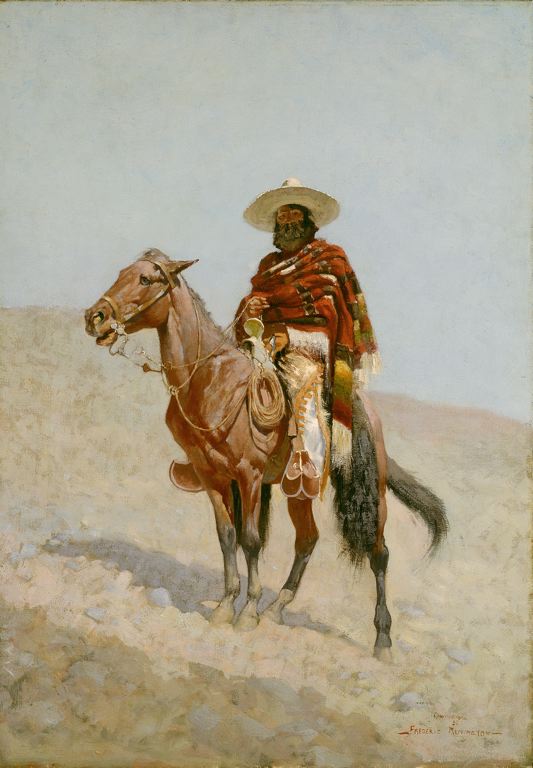 A Mexican Vaquero, 1890 by Frederick Remington
May 5 is Cinco de Mayo
Cowboys in the American West inherited the vocabulary, equipment and practices of the ranching culture from Mexican vaqueros who drove Texas longhorns along the Chisholm and Shawnee trails after the Civil War.
What's Your Brand?
Cattle branding originated with the Mexican custom of branding cattle herds with the owner's coat of arms. Learn more about cattle branding.
Stick Horse Rodeo
Rodeo comes from the Spanish word "rodear." To the Spanish in New Spain (Mexico), a rodeo was a cattle roundup. Learn more about rodeo.
Bill Pickett, Bull Doggin' Cowboy.
Students will be introduced to Pill Pickett, An Oklahoma rodeo personality, who pioneered the rodeo act of bulldogging.
Scattered accounts suggest that before 1900, Mexicans held annual roping and riding contests near Anadarko and raised sheep in northwestern Oklahoma.
Source:
Oklahoma Historical Society
Juan Cruz Lujan and the Pastores
In the mid-to-late 19th Century sheep herders, or pastores, from New Mexico pastured their flocks in the western section of present Cimarron County. The area offered vast, continuous grasslands in the watersheds of the Cimarron, Beaver (North Canadian), and South Canadian rivers. Playa lakes also dotted the landscape. The Santa Fe-Missouri trade route, which developed in the 1820s, crossed through the area. This connection provided New Mexicans with a market for wool and woven goods. In addition, breeding-stock sheep and sheep destined for slaughterhouses were driven from central New Mexico for sale in Kansas and Nebraska. Because of these activities, in the last half of the 19th Century numerous Hispanic communities, or placitas, developed near the trail's path through Cimarron county.
After spring lambing in east-central New Mexico, the pastor, or sheep herder, moved the herd eastward into the grasslands. In summer and autumn the flock covered a wide area through the grassy plains around the Cimarron and Canadian rivers and returned to the mountain valleys for the winter. Sheep needed grass but could survive without much water. The pastores established various "base camps," often building small houses and corrals of native stone, when available.
In 1885 Juan Cruz Lujan turned a sheep camp on Corrumpa Creek into his own ranch. He was joined by his brothers Francisco, Lorenzo, and Alejandro, who came from Mora County, New Mexico. The Lujan ranch had a flat-roofed adobe house, a chapel, and beehive-shaped baking ovens, called hornos.
The descendants of the pastores continued to live and ranch in the Oklahoma Panhandle. The 1900 and 1910 US censuses recorded sizeable concentrations of Hispanic stock raisers, including the Lujans, in Harrison Township of Cimarron County. In 1899 a widely circulated newspaper report asserted that a "colony of three hundred New Mexicans" were raising sheep there, and approximately 125 individuals (25 surnames) are represented in the 1900 census. As late as 1920 and 1930 Juan Cruz Lujan still appeared in the census as a sheep rancher. He died in Cimarron County in 1943.
The Hispanic presence in Cimarron County is reflected in local place names that include Carrizo, Castañeda (at Wolf Mountain, on the Santa Fe Trail), Cimarron, Delfin, Hidalgo, and Nieto Junction. Geographical designations include Corrumpa, Cienquilla, Tesesquite, Carrizozo, and Carrizo creeks, and Trujillo Springs. In the 20th Century some of the environment that served as pasture in the four-state area was preserved as the Rita Blanca National Grassland in Texas and Oklahoma, the Kiowa National Grassland in New Mexico, and the Comanche National Grassland in Kansas.
Source: Everett, Diana, "Pastores," Oklahoma Historical Society
Books
Fields, Terry, and Sherry Rogers, Burro's Tortillas, Sylvan Dell, 2007. (Grades PreK-3)
A corn tortilla version of the Little Red Hen story.
Murdoch, David Hamilton, Cowboy, Eyewitness Books, DK Children, 2000. (Grades 4-7)
From ancient Mongolian herders, to the cowpokes of the American West, to South American gauchos, a photographic study that captures the history, lore, and lifestyles of the world's cowboys.
O'Dell, Scott, Carlota, Laurel Leaf, 2006. (Young Adult)
Carlota thinks her role in life is to take the place of her dead brother to please her father. At 16 she races her stallion, dives for gold in shark-infested waters and fights in the Mexican-American War. But her most difficult feat is to defy her father and become her own person.
Stevens, Jan Romero, Carlos and the Cornfield/Carlos y la milpa de maiz, Scholastic, 2000. (Grades 2-5)
Picture book in English and Spanish describes how Carlos learns a life-long lesson affter planting corn for his father. Includes recipe for cornmeal pancakes.