---
March
Oklahoma Fruit of the Month: Grapes
People have been eating grapes since prehistoric times. Raisins were probably first produced deliberately in Asia Minor by the process of burying fresh grapes in the hot desert sand. The grapes used to make raisins are different from table grapes. Another kind of grape is used to make grape juice.
The continental US is home to approximately 30 native wild grape species. Nine of those are native to Oklahoma. Grapes and a large number of fruit crops have been grown in Oklahoma since the first settlers arrived here. All kinds of grapes can be grown in Oklahoma, but most Oklahoma grapes are grown for grape juice and wine. Table grapes available in the grocery store are mainly from California or Chile.
Play With Your Food: The Grapes of Math
For each group of students, provide a large clear container and a mixture of green and red grapes.
Each group estimates how many grapes they think their container will hold.
Students count the grapes as they fill the container, by ones, twos and fives.
Students estimate how many of each color grape they have.
Students estimate the volume (in grapes) of another container, based on the number of grapes in the first container.
Students create patterns using the grapes.
Students use the grapes to construct addition and subtraction facts.
Students establish benchmarks on their containers for customary and metric units and estimate the measures of grapes.Try again with raisins.
Students select appropriate customary and metric units of measure to find the volume of the grapes.
Students describe the probability of drawing a red grape from the container.
Research question: Why are seedless grapes seedless? (See Melon Meiosis for a clue.)
Smart Board Acitivities
(Need help?)Please be patient with us as we learn how to use this new technology.
You must have Smart Notebook software installed on your computer to open Smart Board activities. If you have Smart Notebook software and are using Internet Explorer, you may get a message telling you the activity cannot be opened. In this event, save the activity to your hard drive. Your browser will save it as a zip file. Simply change the "zip" in the file name to "notebook," and you should be able to open it.
Thank you for your patience.
Smart Board Acitivity page
Grapes (1 1/2 cup, red or green)
amounts per serving
% daily value
calories
60
calories from fat
0
total fat
0g
0%
sodium
0mg
0%
total carbohydrate
14g
5%
dietary fiber
1g
4%
sugars
12g
protein
1g
Vitamin A
2%
Vitamin C
15%
calcium
0%
iron
2%
Percent daily values are based on a 2,000 calorie diet.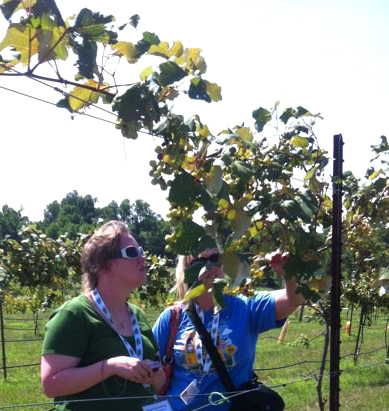 Teachers On the Road With Oklahoma Ag in the Classroom inspect grapes at Gander Way Vineyards, near Tulsa.
Books
Perez, L. King, and Robert Casilla, First Day in Grapes, Lee & Low, 2002. (Grades 1-3).
Growing up in a migrant family, Chico has experienced first school days in artichokes and first days in onions, and "now his first day in third grade would be in grapes." His encounters with bullies and the grumpy school bus driver shake Chico's confidence, but a friendly classmate and an understanding teacher help him adjust. Realistic watercolor, pastel, and colored-pencil illustrations portray Chico's emotions.
Ryan, Pam Munoz, How Do You Raise a Raisin?, Charlesbridge, 2003. (Grades 2-4)
This book explains how grapes become raisins, who introduced the seedless grape, raisins throughout history, nutrition and the many uses for raisins.
Stone, Lynn, Fruit (Plant Parts), Rourke, 2007. (Grades PreK-2)
Beautifully photographed book about fruit is basic but accurate. It is an excellent resource for teaching pollination and seed development and the difference between a fruit and a vegetable.